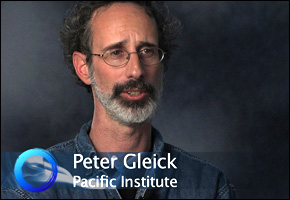 Today, POLITICO announced disgraced climate scientist Peter Gleick has stepped down as president of the Pacific Institute, though he will remain there as a researcher and fundraiser. Interestingly, no successor has been named, so "the search for a new president is underway." What was the hurry?
In 2012, Gleick stole the identity of a Heartland board member (committing identity theft, a federal crime) and used it to commit a second crime (stealing and revealing confidential documents from a competitor, industrial espionage). He confessed to both crimes, but not to a third crime, libel, which he very likely committed by forging a document and lying repeatedly to his allies — and then to the general public and to his own board of directors — about the true origins of that document. He has yet to confess to that crime. This whole hoary incident is called Fakegate and is documented on this site.
The Heartland Institute, Gleick's victim, carefully documented Gleick's crimes and tried to persuade the U.S. Attorney for Northern Illinois to prosecute him, but failed. At the time, we couldn't understand why: Gleick confessed to committing crimes, and the crimes he committed caused great damage to Heartland's reputation and to the wider world of public policy debate. Letting him go unpunished would set a terrible precedent: Groups that support different perspectives on controversial issues are now apparently free to break the law to attack and discredit their opponents.
Why didn't the Department of Justice prosecute Gleick? Events in recent weeks help explain it. 
The Obama administration's heavy-handed abuse of constitutional authority has extended beyond the IRS, FCC, and EPA to include the Department of Justice. The DOJ apparently has consulted with the FBI to investigate global warming realists, and possibly plans to use RICO against groups like The Heartland Institute. Astonishing, and frightening. And it raises an obvious question: For how long has DOJ viewed global warming realists as possible criminalsand not victims? 
Maybe The Heartland Institute never stood a chance against Peter Gleick, because DOJ already made up its mind that alarmists are the "good guys" and realists are the  "bad guys" in the global warming debate. Maybe Gleick had political protection from the White House. Maybe political bias trumped justice?
Which brings us back to Peter Gleick's resignation as president of the Pacific Institute. Gleick is only 60 years old. It's unusual for a CEO to resign without announcing a replacement … unless the resignation was involuntary and there wasn't time to recruit a replacement. Was Peter Gleick fired?
Maybe members of the board of the Pacific Institute, who refused to respond to not one but two letters from The Heartland Institute warning them of Gleick's misconduct and calling on them to fulfill their fiduciary responsibilities, finally realized they were being lied to by Gleick. That they had failed to behave in an honorable fashion. That their fake "internal investigation" was being misrepresented by the liberal mainstream media. That their failure to act had made the Pacific Institute a joke to many in the science community because its CEO was an unconvicted felon. 
Maybe some of this, or all of this?
The statute of limitations on Gleick's crimes runs five years … to February 2017, a month after a new president is installed in office. Interesting timing.