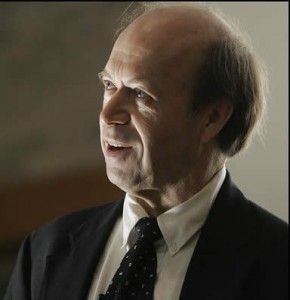 The Heartland Institute plans to pay Indur Goklany, an expert on climate economics and policy, a monthly stipend to write a chapter on those topics for the Institute's forthcoming mega-report, Climate Change Reconsidered 2012. Earlier this week, Greenpeace and Rep. Raúl Grijalva (D-Ariz.) called for a congressional investigation of Goklany. In addition to being an independent scholar, Goklany is a Department of Interior employee. Federal employees may not receive outside income for teaching, writing, or speaking related to their "official duties."
But as I pointed out the other day at Globalwarming.org, climate economics and policy are (to the best of my knowledge) not part of Goklany's "official duties." It would be shocking if they were. Goklany is a leading debunker of climate alarm and opposes coercive decarbonization schemes. Why on earth would the Obama Interior Department assign someone like that to work on climate policy?
Greenpeace and Grijalva have got the wrong target in their sites. The inquisition they propose might actually have some merit if directed at one of their heroes: Dr. James Hansen of NASA. Hansen has received upwards of $1.6 million in outside income. And it's not unreasonable to assume that most or all of that income was for teaching, writing, and speaking on matters "related to" his "official duties."
My colleague Chris Horner laid out the juicy details last November in a column posted on Watts Up With That. In "Dr. James Hansen's growing financial scandal, now over a million dollars of outside income," Chris argued that Hansen gets substantial outside income for activities related to his official duties and does not always comply with federal financial disclosure regulations:
NASA records released to resolve litigation filed by the American Tradition Institute reveal that Dr. James E. Hansen, an astronomer, received approximately $1.6 million in outside, direct cash income in the past five years for work related to — and, according to his benefactors, often expressly for — his public service as a global warming activist within NASA.

This does not include six-figure income over that period in travel expenses to fly around the world to receive money from outside interests. As specifically detailed below, Hansen failed to report tens of thousands of dollars in global travel provided to him by outside parties — including to London, Paris, Rome, Oslo, Tokyo, the Austrian Alps, Bilbao, California, Australia and elsewhere, often business or first-class and also often paying for his wife as well — to receive honoraria to speak about the topic of his taxpayer-funded employment, or get cash awards for his activism and even for his past testimony and other work for NASA.

Ethics laws require that such payments or gifts be reported on an SF278 public financial disclosure form. As detailed, below, Hansen nonetheless regularly refused to report this income.

Also, he seems to have inappropriately taken between $10,000 and $26,000 for speeches unlawfully promoting him as a NASA employee.
There's more in Chris's post, but you get the drift.
Now, I wondered whether Hansen, an employee of NASA, an independent agency, is subject to the same outside compensation rules as Goklany, an employee of an Executive Agency. The answer is yes. NASA's guidelines on "outside employment" state that "Employees should refer generally to the Standards of Ethical Conduct for Employees of the Executive Branch, 5 CFR Part 2635," and must comply with Subpart H.
CFR Part 2365, Subpart H bars an employee from receiving compensation for speaking, teaching, or writing "that relates to the employee's official duties." Quite sensibly, though, the employee may receive compensation for speaking, teaching, or writing not related to his official duties:
Note: Section 2635.807(a)(2)(i)(E) does not preclude an employee, other than a covered noncareer employee, from receiving compensation for teaching, speaking or writing on a subject within the employee's discipline or inherent area of expertise based on his educational background or experience even though the teaching, speaking or writing deals generally with a subject within the agency's areas of responsibility.
This language seems to fit Goklany to a tee. The proposed chapter for Heartland on climate economics and policy is within Goklany's discipline and area of expertise but it is not related to his official duties.
Can anyone with a straight face say the same about Hansen? How could Hansen's teaching, speaking, and writing about climate change not be related to his official duties? How then could the outside income he has received for those activities not be unlawful?
Rep. Grijalva's demand for a House Resources Committee "hearing" on Goklany is preposterous. A letter of inquiry would suffice even if there were evidence of improper conduct, which there is not.
My unsolicited advice to Committee Chair Doc Hastings (R-Wash.) is to politely reject Grijalva's request but also to ask Grijalva, just for the record, whether he and Greenpeace think the Committee should investigate James Hansen's million dollar-plus outside income.
(Cross-posted at Globalwarming.org)